Update on how France is recovering from COVID
Dear Friends of French Cycling Holidays
Who knew on March 15th when the French President announced we were going to be in confinement for 15 days that officially 55 days later May 11th France is finally out of confinement ….well most of it.
In order for France to come out of confinement the government looked at three criteria - the circulation of the virus, the capacity of our health system and the ability to have testing across the country. If you look at the following maps you will see that we are winning against the virus and the government feels there is sufficient testing available across the country. The tension however on our hospitals in Paris and surrounding areas along with Ile de France; both densely populated areas are still stretched. To that extent those areas will continue to have restrictions in place.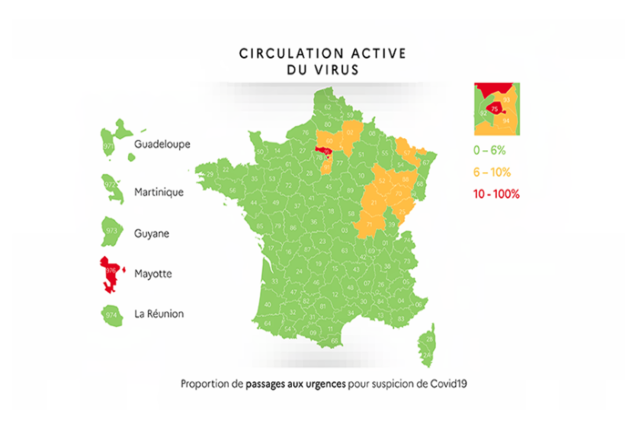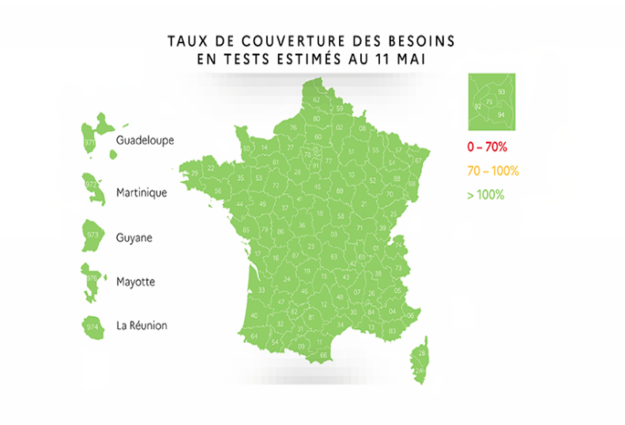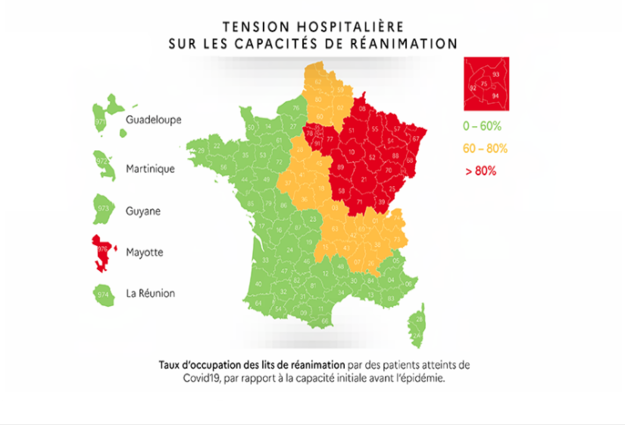 We are in what is classified as Stage 1 of our deconfinement.
Most businesses outside of restaurants and hotels will reopen on Monday with safety measure in place where needed. Masks are to be worn on public transport, limit on numbers at tourist attractions museums etc. Generally until the end of May the message is be free but safe.
Stage 2 will commence June 2nd with the anticipation of our restaurants and hotels opening. Like many countries the economic impact on all sectors is enormous. Trying to strike a balance between reopening a country where the virus is still present around the world and re stimulating the economy is a difficult one.
We in the tourism business understand this well.
When the government tells you that freedom of travel and opening of hotels and restaurants is still in the future where does this leave us and all our partners? While we work with large hotel chains, mid size hotels we equally work with small family run accommodations and businesses who like us depend on you the traveller.
We do not know what this summer will bring. Will you be able to travel to France later this summer? in the fall? or more importantly will you want to travel to France or anywhere? We understand the anxiety, the uncertainty of the future as we feel it ourselves. Our guides have family in different countries that they would normally visit in their downtime but this year virtual calls and hugs will have to suffice.
Lives around the world have been unsettled as children and young adults have returned home from school and as adults we are in some cases balancing working from home, working form home and homeschooling, those retired used to having freedom to roam now with restrictions. Different countries have different rules and trying to keep abreast of where the world is at times is frankly tiring.
One thing we can tell you for certain is that IF we cannot see you this year, despite being a small company we WILL be here next year for you. Your deposits will be carried forward for a future trip and not just for next year but the year after as well. Tours that cannot run due to government restrictions will be rescheduled for you to rebook and as always call us if you cannot see what you are looking for. Anyone who would like an insurance letter to claim against their insurance will have one provided.
More than ever during these difficult times we need to ensure we have a presence when this is over. Big companies have big budgets for marketing , little companies rely on you the consumer to help us. If you have been on a trip with us in the past and have not left a review on our Facebook page and wish to do so please follow this link to our page and click on Reviews found on the left hand side of the page.
If you are not a Facebook user, please use google for your review. Type French Cycling Holidays into your google search in full and you will see the below. Our logo is on all our account and social media accounts to ensure you know it is us!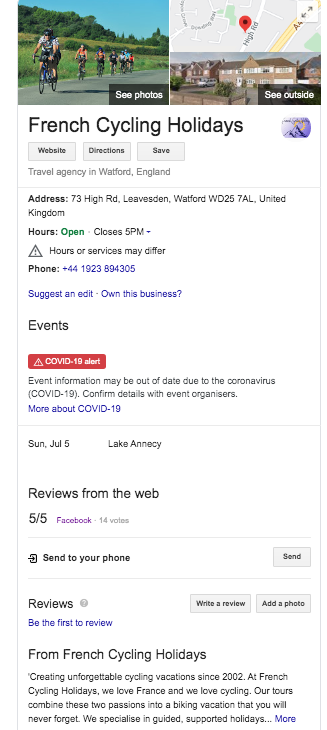 We want to thank you all for your continued support and ask that you continue to support us in the future.That said we now want to focus on happier things like.....Cheese!