Summer 2020 Newsletter - La Rentrée , Planning in Covid Times and E-bike Tours.

Summer 2020 Newsletter - La Rentrée and Planning!
With the first week of September looming, normally at this time of year we at FCH are at our busiest just like "La Rentrée" that is happening through France as we write this. In all stores, on the radio and in the newspapers you will see " La Rentrée" advertised. It is the term used to indicate that summer holidays have ended and the children are returning to school. Mums and Dads everywhere are giving each other high fives. It similar to the 'Back to School" campaigns we see in other countries but more intense!. La Rentrée is also a special time for the wonderful French boulangeries….it is the time of year you see chocolate squares baked into a chunk of baguette! Baguette au chocolat! Baguette au chocolat!
The first time I saw it I thought the baker had run out of the lovely flaky pastry they normally use for a pain au chocolat! But no, it is something that mums and dads will pack into their kids school bags for " Le Goûter". Goûter which means to taste isusually afternoon snack time for kids to tide them over to dinner. Admittedly our French friends tell us that they may also give the children baguette au chocolate at breakfast if it makes life easier!
Along with La Rentrée comes planning…parents , schools companies planning for the term to come. For us at FCH we normally do not have a tour scheduled in the third week of August as we know that it is the last week of holiday scramble but it also gives us a week to plan and move around our bike fleets to cover the various regions we will be cycling in for September and October and also start the planning process with the hotels for the next summer.
Planning….not so easy this year!
This year planning seems to be just as much of a topic of conversation as La Rentrée. Everyone we talk to and not just in the travel tourism industry, but other industries, personal friends and family are talking about planning for the future and how do we successfully plan when our world is still in flux?
We follow the news like everyone else and we get to hear a lot of things.
We know the virus is still circulating and will continue to circulate until a vaccine is discovered and administered in enough numbers to have the "herd immunity" we all hear about.
We are getting and understand the message that we must "learn" to live with the virus and each individual is responsible for following "les gestes barrières" - protection measures to help stop the spread.
Leaving your home with a mask is, these days, as normal as leaving the house with your house keys.
While our lives seemed to have stood still at the height of the pandemic, we know that it was also a world turned of clearer skies, reductions in litter and waste, cleaner waters and canals and returning wildlife.
This time has also shown the world that the bicycle has become a preferred method of travel, not only for recreation and vacations but for commuting and short trips to the stores. We of course already shared this sentiment!
We know that travel to a "Hot Spot" now has a new meaning but what we don't know is how you, your family, your friends feel about travel in the future and it is that factor alone that makes La Rentrée and planning even more difficult this year.
So how are we planning?
We are hopeful for the future, that we will receive an even better passenger experience on trains and planes as companies have reevaluated their processes. We hope that measures put in place to stop overcrowding at tourist `hot spots" will continue, but above all that like us your passion for travel and curiosity to explore new places will not fade.
We thank all of you for your continued loyalty and faith in us. We already have a 2021 calendar up on our website and are currently working on fine-tuning. The schedule will primarily be driven by all of you that booked with us this year and have already expressed your desire for what tours to move your credit.
What's next?
In October we will send everyone who had a booking with us this year an email. If you have re-scheduled your email will include the amount of your credit and confirmation of the tour we have registered you for in 2021. If you have not re-scheduled you will receive an email with the amount of your credit and we will be asking about what your thoughts are on future travel.
Not ready to travel?
We also recognise that some of you may not feel that travelling will be right for you next year so we are aiming to also out put a 2022 schedule up to assist with any planning.We are conscious that for tours for the earlier part of next summer May, June may feel too close to book for now if people are still living with uncertainty about travelling. For those months you may see a change from the past. We are looking to only schedule one tour a week in those months vs two a week.
So as we sit in our offices and mull this over we hope you are all out enjoying your bikes as much as you can and we leave you with the below to read.
E-Bike tour of the Tarn Gorges
Following the reaction to our initial tours, we feel the Mt Aigoual, Tarn Gorges Cevennes is an amazing area that more people should explore but that perhaps without an e-bike it may prove challenging. Therefore teaming up with France Bike Rentals we are now offering this as primarily an E- bike tour but of course should you wish to ride a regular bike that is always available!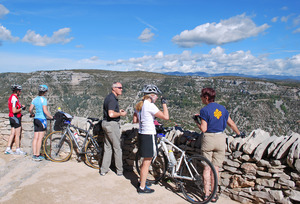 We are taking bookings for our 2021 cycling tours across France; for full details, check out our website. And, as always, you can contact Mike, Susan or Joe by phone +44 1923 894305, or email - fch@frenchcyclingolidays.com if you would like to discuss any of our tours in greater detail.