France Goes Green! Covid update June 22 as France enters Phase 3

Dear Customers,
We hope that you are all healthy and not missing us too much. We miss you! What a strange summer. All our hotels and restaurants that we use have been open for a while and their social media updates are making us envious that we are not with them (yet!) this year.
Today here in France we enter Phase 3 of our de confinement process albeit prior to today we reached milestones earlier than expected.
In advance of Phase 3
As the progress of health in France was better than the officials expected certain measures scheduled to be removed today were removed earlier. All of mainland France was declared a green zone on June 14th!
As a result on June 15th France re opened all their borders to travellers from the EU, the UK and the Schengen Zone. If you are travelling from the UK into France, you are asked to voluntarily self isolate (quarantine) for 14 days however the quarantine initially imposed by Spain for all EU and UK travellers was lifted yesterday June 21st.
The news last week of borders reopening brought joy to travellers across Europe ( including ourselves as we took a quick cycle trip into Italy).
Parisians were joyous once again as restaurants are now able to open fully not just terraces to match the rest of the country.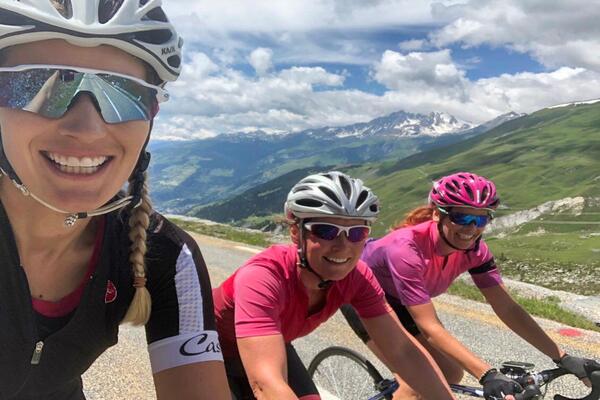 June 21st Above: Guides Katie and Susan taking locals on a day trip to Italy over the Col Petit St. Bernard. Below: Guides Susan and David at the Italian Border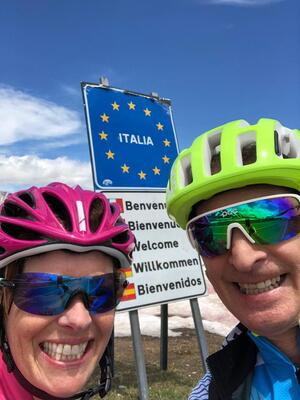 Museums, tourist attractions, gyms, swimming pools were also given the green light to reopen earlier than today's date and all across France we celebrated the much loved Fête de la Musique.
So what does Phase 3 bring? Schools reopened fully today without the social distancing measure previously in place, cinemas, casinos's all reopened and team sports can resume.
All Holiday centres are reopened and employees in offices may return to work this week. Masks continue to be obligatory for public transportation and that is expected to last for the remainder of the year.
Update to travel after July 1st. The EU has stated they are still on target to re open their borders as of July 1st on a gradual basis to NON European travellers. ( insert huge high five!