Exploring some of our hotels Part 2 - Provence Tours!
In our Autumn/Fall Newsletter we told you we will highlight some of the amazing locations we stay at. All selected for the character, charm and for the people who run them! We have missed all of our partners this year and we look forward to introducing them to you when you holiday with us next year! Here is another one of our accommodations, this one from our tours in Provence - Roman Heritgage and Provence - Lavender in Luberon.
View from the terrace of the avenue of Plane trees
When you choose an accommodation and use it for two of your tours you know it is something special. A few years ago we needed a new start location for our Provence tours and selected the Hotel L'Hermitage. For us it depicts the exact essence of a typical Provencal home. And a home is exactly what it feels like when you stay here. Owners Philippe and Marie and their wonderful dog Oscar could not be more welcoming. The house is set in a century old park with a newly installed swimming pool to relax by and soak in the provencal sun. The sound of the cicadas as you stroll in the garden, admiring the fountains and statues hidden around the grounds, followed by a glass of Rosé on the terrace instantly puts you in vacation mode as you get ready to ride down a lane of Plane trees to the old iron gates of the manor to start your cycling adventure. To book or for more details email us at fch@frenchcycling.com or click here.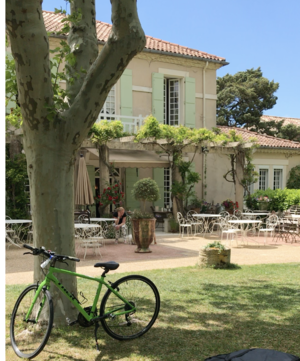 Terrace of the Hotel l'Hermitage