Autumn 2020 update, credit notes and planning for 2021!
The beginning of another season.....We have come to the end of our 2020 summer season and as usual we like to reflect back on all the new people we have met, great memories we have made, the fabulous meals we have shared and all the kilometers we have cycled together. We have put together a montage of photos to remind you of all the beautiful places we saw this season.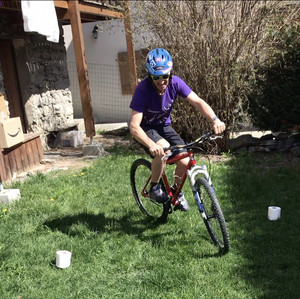 David riding in his backyard.
The End.
But seriously (!) who could have known last November as we sat here in our UK offices reviewing the 2019 season, tweaking routes, contacting hotels , vineyards, restaurants etc. that 2020 would be year we would never forget. We could sit here and write about why we will never forget summer 2020 but I am pretty sure that all our readers would rather be out on their bikes planning their next adventure than reading what we already know.
So let's get on with planning Summer 2021!
In the last few weeks, everyone with bookings from this summer will have received their new invoices for the tours they re-registered for in 2021, or a credit note to be used for any future tour with us. If you have not received it, please check your SPAM folders or call us at 0044 1923 894305.
We understand that the world is still in flux and that travel remains restricted in some countries, but we remain positive that travel will resume and that we will explore France together by bike.
We have read many newsletters and website in our industry recently advising people they will be selecting hotels and restaurants who have implemented new sanitary protocols and have strict controls in place to make you feel safe.
Of course, we have enacted the same procedures, but additionally we would like to add that we already partner with great hotels, some large, some boutique, family owned accommodations and amazing restaurants who offer warm welcomes, pride themselves on their cleanliness and love to share the French culture and way of life with you. Therefore we will continue to use same quality accommodations and restaurants we have always used and when selecting new places to stay or visit we will look for the same characteristics used in the past because it is these relationships which we have built and trusted over the years to always welcome us and keep us safe that makes us want to return to them.
We will highlight a few of our amazing tour accommodations in the next few blogs for you to explore ….( and we have many many more!)